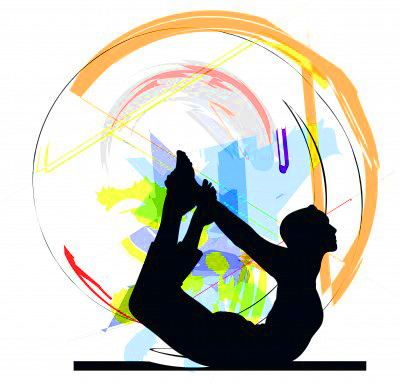 A few days ago I found myself standing, with no more than 6 inches between us, next to a mostly naked total stranger. I was dripping with sweat in a dimly lit humid dank room of 104 degrees stretching my body in a series of challenging poses for 90 minutes – not something I would intuitively have thought of as healthy or fun!
After much frustration at trying to find the perfect yoga class I decided this week to give Bikram a go www.hotbikramyoga.co.uk and luckily had a friend to accompany me who was also experiencing the great sweat for the first time. It was extraordinary in many ways:
Firstly, the fact that you are semi-naked in rather exposing forms. Even though you are told to keep your eyes on yourself in the mirror, it is hard to resist taking a little peak at some of the sights that you find yourself hotly amongst.
Secondly, it is a physical and mental challenge to remain in the intense heat. When we did have a chance to lie down I could feel my heart literally pounding on the towel as if it was saying – we seriously need to get out of her before we explode!
I have done yoga on and off in various styles for many years, but this was unique and for those who consider yoga to be religious in some way – I can honestly say Bikram is something in its own camp. If some do consider it a religion then that was lost on me. I believe it is a personal discipline and challenge to maneuver your body into 26 different poses while remembering to keep breathing and drinking so as to survive the 90 minutes without dehydration and/or passing out.
The teacher is certainly not your calm tree-hugging yogi uttering a series of melodious and relaxing chants or OM's – nor is there the fragrance of cleansing incense burning. Think total opposite, and you have someone with a headset on delivering instructions in an almost hypnotic way that is aimed at eliminating the need to think and more to just act and allow the body to mould its way into shapes it never knew possible.
Despite my account of it as seeming like a rather harrowing and absurd experience, it left me feeling incredibly cleansed, light and with a real sense of achievement. My friend has already been back and I will be too this week.
When you are new to yoga you struggle to get into a pose, or to do it well, and feel frustrated when you watch a more advanced practitioner doing it with relative ease. For many of the standing poses one falls out of them and initially has a sense of failing but when the instructor says – don't worry if you fall out, just get straight back into it and try again – you realise that the worst that can happen is you fall out and so you start again.
I find yoga great parallel for life as our physical bodies reflect so much of what is going on for us mentally. The principle of yoga is based on the fact that each pose is designed to energise and release toxins from various parts of our bodies. When we learn to let go mentally we are able to go further physically and when we let go physically we seem to be able to go further mentally…
So if you are looking for some warmth and a serious challenge then find your nearest Bikram yoga centre and have a go at experiencing the joys of sweating and adding a new dimension to your life. I would love to hear how you get on.